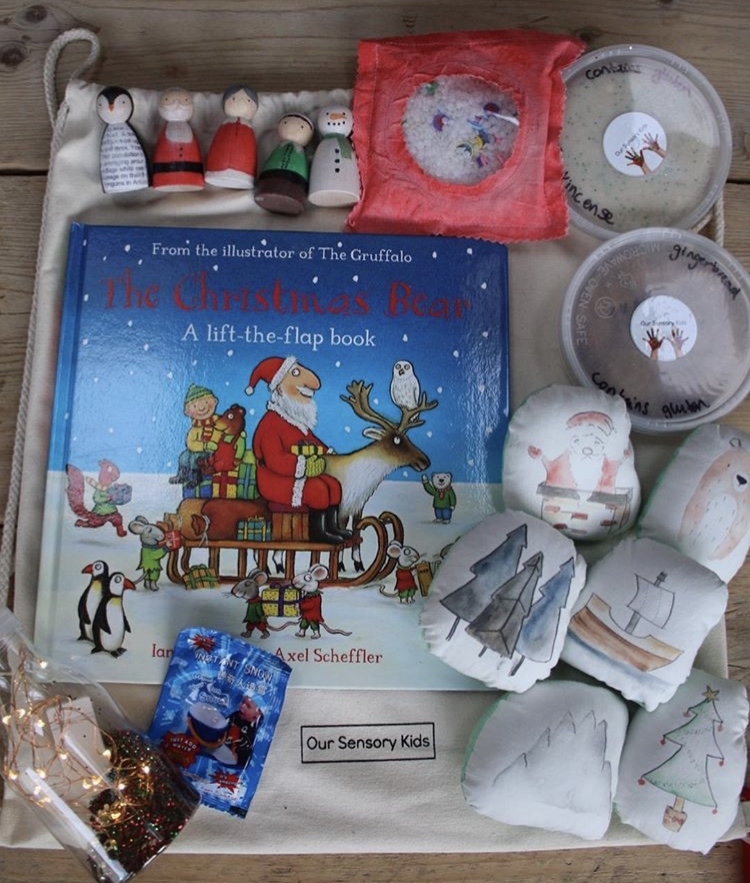 The Christmas Bear
You are purchasing "The Christmas Bear" story sack
You choose what is included:
Where items have been updated since last year I have put a note
"The Christmas Bear" story (hardback)

Christmas ispybag- snowflake fabric instead, 2019 beads inside

Two scented playdough pots- in aluminium pots 300g each

Five peg doll characters- as 2019 design (see peg dolls section of website)

Six soft toys

Christmas theme sensory bottle (taller bottle, white beads and snowflakes inside)

magic snow pack

Canvas bag (tag and ribbon included)
CE TESTED - Suitable for children from birth (not including magic snow)
if you would like to takeaway items from this sack to match your budget please order via our custom shop tab and select "Christmas bear" as your theme when asked. Thank you.

d e t a i l s
[our sensory story sack] will be released at the start of each month under a different fun theme each time.
 
Each will contain:

'Handa's Surprise' by Eileen Browne (paperback)
Props and sensory toys to help you tell the story (to be announced in due course)

- Seven on theme sensory activities to try for each area of the curriculum
- Assessment descriptors for each stage linked to each activity

... and it will all arrive in a beautiful canvas draw-string bag!
ALL CE TESTED AND CERTIFIED

c o s t

the cost to mainland UK will be
£34.99

(SHIPPED WORLDWIDE FOR EXTRA POSTAGE COST)
WE ARE ONLY CREATING A LIMITED NUMBER EACH MONTH
SAFETY INFORMATION
[Our Sensory Story Sack]
This Story Sack is to be used by adults for children. The kit contains everything educators, carers or parents may need to support their child to engage with and enjoy the story in a sensory way.
This kit is not a toy
All adults must supervise their children at all times when using the contents of this kit.
Some items contain colourings and dyes that could be harmful if used inappropriately or ingested.
This kit contains some small items and parts which could be a choking hazard. 36mnths+ only.
The drawstring bag could cause severe harm or death.
The kit and contents should not be left unattended or stored in a place children could have access to.
CLEANING: Handwash only.
PLEASE KEEP OUT OF REACH OF UNSUPERVISED CHILDREN
Please retain this information for future reference.